Cluster configuration on Windows and Linux with HA modules

Examples of cluster configuration on Windows and Linux with HA modules
Click on the Windows or Linux module to understand and try the solution

Mirror modules (replication and failover)

Windows

Linux

Microsoft SQL Server
-
Oracle
MySQL
PostgreSQL
Firebird
Hyper-V
-
Milestone XProtect (based on Microsoft SQL Server)
-
Hanwha SSM (based on PostgreSQL)
-
Generic mirror module

Farm modules (load balancing and failover)

Windows

Linux

IIS module
-
Apache module
Generic farm module
Simplicity of cluster configuration
With the SafeKit software, cluster configuration for a critical application is simple. You must configure either a farm application module or a mirror application module according the high availability architecture suited for your critical application.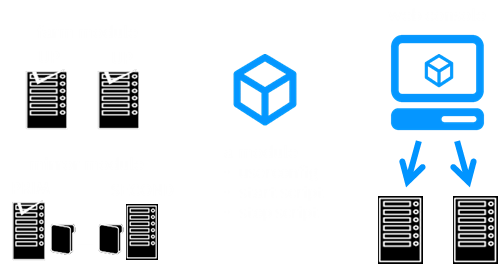 Cluster configuration involves writing an application module with the help of the SafeKit web console. An application module includes:
1. the application stop and start scripts,
2. the configuration file userconfig.xml which contains:
names or physical IP addresses of the servers,
name or virtual IP address of the cluster,
file directories to replicate in real time between 2 servers for a mirror module,
network load balancing criteria between N servers for a farm module,
configuration of software and hardware failures detectors.
Simplicity of software cluster deployment
Once the application module is configured and tested, deployment of the HA software cluster requires no specific IT skills:
install application on 2 standard Windows or Linux servers,
install the SafeKit software on both servers,
install the application module on both servers,
configure the new names (or IP addresses) of the servers and the new name (or virtual IP address) of the cluster ,
start the cluster.
After cluster deployment, the administrator has a very simple management console (as well as a command line interface), to avoid human errors when managing the critical application.
FAQ on Evidian SafeKit
3 demonstrations [+]
Cloud solutions [+]
Customers [+]
Best use cases [+]
Distinctive advantages [+]
More on the mirror cluster [+]
More on the farm cluster [+]
SafeKit Webinar [+]
Pricing - Free trial [+]