High Availability Architectures Overview

Principle of high availability modules
A high availability module is a customization of SafeKit for an application. There are two types of modules: the mirror module with real-time data replication and failover and the farm module with load balancing and failover.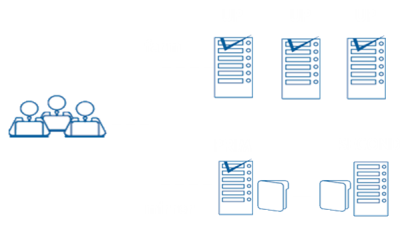 In practice, an application module is a ".Safe" file (zip type) including:
1 - the configuration file userconfig.xml which contains:
names or physical IP addresses of the servers,
name or virtual IP address of the cluster,
file directories to replicate in real time (for a mirror module),
network load balancing criteria (for a farm module),
configuration of software and hardware failures detectors
2 - the scripts to start and stop the application.
Examples of HA modules are given in this article.
Plug and play deployment of high availability modules
Once an application module is configured and tested with an application, deployment requires no specific IT skills:
install application on 2 standard servers (physical or virtual),
install the SafeKit software on both servers,
install the application module on both servers.
High availability architectures: the different software clusters
SafeKit offers two basic clusters:
the mirror cluster built by deploying a mirror application module on 2 servers,
the farm cluster built by deploying a farm application module on 2 servers or more.
Several application modules can be deployed on the same cluster. Thus, advanced clustering architectures can be implemented:
Key differentiators of file replication and failover with the Evidian SafeKit mirror cluster
Evidian SafeKit mirror cluster with real-time file replication and failover

Synchronous replication

The real-time replication is synchronous with no data loss on failure

This is not the case with asynchronous replication

After a server failure, fully automated failback procedure

After a server failure and a failover, the replication failback procedure is fully automatic on the failed server and without stopping the application on the only remaining server

This is not the case with most replication solutions particularly with replication at the database level. Manual operations are required for resynchronizing a failed server. The application may even be stopped on the only remaining server during the resynchonization of the failed server

All clustering features

The solution includes all clustering features: server failure monitoring, network failure monitoring, software failure monitoring, automatic application restart with a quick recovery time, a virtual IP address switched in case of failure to automatically reroute clients. A clustering configuration is simply made by means of a high availability application module. There is no domain controller or active directory to configure on Windows. The solution works on Windows and Linux

This is not the case with replication-only solutions like replication at the database level

Quick application restart is not ensured with full virtual machines replication. In case of hypervisor failure, a full VM must be rebooted on a new hypervisor with an unknown recovery time

Replication of any type of data

The replication is working for databases but also for any files which shall be replicated

This not the case for replication at the database level

File replication vs disk replication

The replication is based on file directories that can be located anywhere (even in the system disk)

This is not the case with disk replication where special application configuration must be made to put the application data in a special disk

File replication vs shared disk

The servers can be put in two remote sites

This is not the case with shared disk solutions

Remote sites

With remote sites, the solution works with only 2 servers and for the quorum (network isolation), a simple split brain checker is offered

This is not the case for most clustering solutions where a 3rd server is required for the quorum

If both servers are connected to the same IP network through an extended LAN between two remote sites, the virtual IP address of SafeKit is working with rerouting at level 2

If both servers are connected to two different IP networks between two remote sites, the virtual IP address can be configured at the level of a load balancer. SafeKit offers a health check: the load balancer is configured with a URL managed by SafeKit which returns OK on the primary server and NOT FOUND else. This solution is implemented for SafeKit in the Cloud but it can be also implemented with a load balancer on premise

Virtual IP address is not offered by replication-only solution

Uniform high availability solution

SafeKit implements a mirror cluster with replication and failover. But it imlements also a farm cluster with load balancing and failover. Thus a N-tiers architecture can me made highly available and load balanced with the same solution on Windows and Linux (same installation, configuration, administration with the SafeKit console or with the command line interface). This is unique on the market

This is not the case with an architecture mixing different technologies for load balancing, replication and failover
Key differentiators of load balancing and failover with the Evidian SafeKit farm cluster
Evidian SafeKit farm cluster with load balancing and failover

No load balancer or dedicated proxy servers or special multicast Ethernet address

The solution does not require load balancers or dedicated proxy servers above the farm for imlementing load balancing. SafeKit is installed directly on the application servers in the farm. The load balancing is based on a standard virtual IP address/Ethernet MAC address and is working with physical servers or virtual machines on Windows and Linux without special network configuration

This is not the case with network load balancers

This is not the case with dedicated proxies on Linux

This is not the case with a specific multicast Ethernet address on Windows

All clustering features

The solution includes all clustering features: virtual IP address, load balancing on client IP address or on sessions, server failure monitoring, network failure monitoring, software failure monitoring, automatic application restart with a quick revovery time and a replication option with a mirror module. A clustering configuration is simply made by means of a high availability application module. There is no domain controller or active directory to configure on Windows. The solution works on Windows and Linux

This is not the case with other load balancing solutions. They are able to make load balancing but they do not include a full clustering solution with restart scripts and automatic application restart in case of failure. They do not offer a replication option

Remote sites

If servers are connected to the same IP network through an extended LAN between remote sites, the virtual IP address of SafeKit is working with load balancing at level 2

If servers are connected to different IP networks between remote sites, the virtual IP address can be configured at the level of a load balancer. SafeKit offers a health check: the load balancer is configured with a URL managed by SafeKit which returns OK on the UP servers and NOT FOUND else. This solution is implemented for SafeKit in the Cloud but it can be also implemented with a load balancer on premise. Thus you can implement load balancing but also all the clustering features of SafeKit including an easy administration of the cluster through the SafeKit web console

Load balancers do not implement all the clustering features of SafeKit

Uniform high availability solution

SafeKit imlements a farm cluster with load balancing and failover. But it implements also a mirror cluster with replication and failover. Thus a N-tiers architecture can me made highly available and load balanced with the same solution on Windows and Linux (same installation, configuration, administration with the SafeKit console or with the command line interface). This is unique on the market

This is not the case with an architecture mixing different technologies for load balancing, replication and failover
FAQ on Evidian SafeKit
3 demonstrations [+]
Application high availability modules [+]
Cloud solutions [+]
Customers [+]
Best use cases [+]
Distinctive advantages [+]
More on the mirror cluster [+]
More on the farm cluster [+]
SafeKit Webinar [+]
Pricing - Free trial [+]