High Availability Architectures Overview
Evidian SafeKit
Use high availability modules
A high availability module is a customization of SafeKit for an application. There are two types of modules: the mirror module with real-time data replication and failover and the farm module with load balancing and failover.
If you deploy a mirror module on 2 servers, then you create a mirror cluster and if you deploy a farm module on N servers, then you create a farm cluster.
Several application modules can be deployed on the same servers. Thus, advanced clustering architectures can be implemented like those presented previously (farm+mirror, active/active, N-1).
What is a module?
In practice, an application module is a ".Safe" file (zip type) including:
1 - the configuration file userconfig.xml which contains:
names or physical IP addresses of the servers,
name or virtual IP address of the cluster,
file directories to replicate in real time (for a mirror module),
network load balancing criteria (for a farm module),
configuration of software and hardware failures detectors
2 - the scripts to start and stop the application.
Plug and play deployment of high availability modules
Once an application module is configured and tested with an application, deployment requires no specific IT skills:
install application on 2 standard servers (physical or virtual),
install the SafeKit software on both servers,
install the application module on both servers.
SafeKit: an ideal solution for a partner application
This platform agnostic solution is ideal for a partner with a critical application and who wants to provide a redundancy and high availability option easy to deploy to many customers.
This clustering solution is also recognized as the simplest to implement by our partners.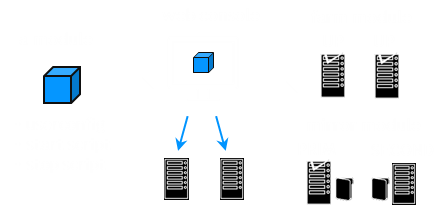 Advanced clustering architectures
Several modules can be deployed on the same cluster. Thus, advanced clustering architectures can be implemented: