How a load balanced virtual IP address works in the same subnet?
Case of a farm cluster with 2 Windows or Linux servers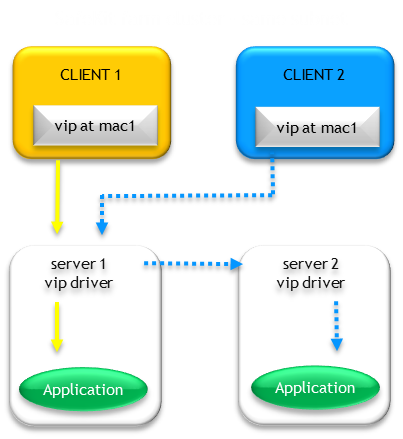 In a load balancing farm cluster, a virtual IP address is required to load balance clients requests and to reroute clients in case of failover. In this example, we consider only two servers but the solution works with more than two servers.
When both servers of the cluster are in the same subnet, the virtual IP address is set on the Ethernet card of both servers (IP aliasing). The virtual IP address is a third IP address coming in addition to the two physical IP addresses of server 1 and server 2. With SafeKit, several virtual IP addresses can be set in the cluster on the same Ethernet card or on different Ethernet cards.
In the ARP cache of clients, the virtual IP address is associated to the Ethernet MAC address of one server: mac1 of server1 in the figure. A filter inside the kernel of server 1 receives the traffic and split it according the identity of the client packets (client IP address, client TCP port).
Once a packet is accepted by the filter on a server, only the CPU and memory of this server are used by the application that responds to the request of the client. The output messages are sent directly from the application server to the client.
If there is a failure of server 1, SafeKit sends gratuitous ARP to reroute clients ARP caches with the Ethernet mac2 address of server 2. Thus, clients are reconnected to server 2.
When two servers are in remote sites, the previous virtual IP address algorithms are working if they are connected in the same subnet through an extended LAN/VLAN. This is the simplest use case for remote sites.
Note that SafeKit does note require a specific multicast Ethernet address like with NLB on Windows and works on Windows and Linux.