High availability software - HA cluster for redundancy of critical applications on Windows and Linux
Evidian SafeKit
30 seconds elevator pitch for SafeKit
Sam is in charge of critical applications
Critical applications are not available anymore!
All-in-one high availability
In one software product, SafeKit provides on Windows and Linux:
load balancing
synchronous real-time file replication
automatic application failover
automatic failback after a server failure
Save costs of network load balancers or dedicated proxy servers, shared disk or replicated SAN storage, enterprise editions of Operating Systems and databases, specific skills to maintain operational a cluster.
A complete solution
SafeKit solves:
hardware failures (20% of problems), including the complete failure of a computer room,
software failures (40% of problems), including restart of critical processes,
and human errors (40% of problems) thanks to its ease of use and its web console.
A generic product
You can apply this generic product to your applications, databases, full Hyper-V or KVM virtual machines, Docker, Kubernetes, Cloud applications.
Zero specific skills
No special computer skills are required to deploy a SafeKit high availability cluster.
Zero hardware extra costs
Forget about shared disks, replicated SAN storage... SafeKit is hardware independent and runs on your existing physical servers, or in virtual machines, or in the cloud.
Zero software extra costs
SafeKit works with the standard editions of Windows and Linux and does not require enterprise editions of databases.
SafeKit: an ideal solution for a partner
This platform agnostic solution is ideal for a partner reselling a critical application and who wants to provide a redundancy and high availability option easy to deploy to many customers.
With many references in many countries won by partners, SafeKit has proven to be the easiest solution to implement for redundancy and high availability of building management, video management, access control, SCADA software...
Video management, access control, building management [+]

Life safety is directly associated with the proper execution of security software. That's why, they need redundancy and high availability. SafeKit is recognized as the simplest redundancy solution by our partners which has deployed it in:

Testimonial of Sebastien Temoin, Technical and Innovation Director, NOEMIS:

"SafeKit by Evidian is a professional solution making easy the redundancy of Milestone video management software. The solution is easy to deploy, easy to maintain and can be added on existing installation. We have assisted integrators to deploy the solution on many projects such as city surveillance, datacenters, stadiums and other critical infrastructures. SafeKit is a great product, and Evidian provides great support."

TV broadcasting [+]

Harmonic is using SafeKit as a software OEM high availability solution and deploys it with its TV broadcasting solutions over satellites, terrestrials, cable, IPTV.

Over 80 SafeKit clusters are deployed on Windows for replication of Harmonic database and automatic failover of the critical application.

Philippe Vidal, Product Manager, Harmonic says:

"SafeKit is the ideal application clustering solution for a software publisher looking for a simple and economical high availability software. We are deploying SafeKit worldwide and we currently have more than 80 SafeKit clusters on Windows with our critical TV broadcasting application through terrestrial, satellite, cable and IP-TV. SafeKit implements the continuous and real-time replication of our database as well as the automatic failover of our application for software and hardware failures. Without modifying our application, it was possible for us to customize the installation of SafeKit. Since then, the time of preparation and implementation has been significantly reduced."

Finance [+]

The European Society of Warranties and Guarantees in Natixis uses SafeKit as a high availability solution for its applications.

Over 30 SafeKit clusters are deployed on Unix and Windows in Natixis.

Industry [+]

Fives Syleps implements high availability of its ERP with SafeKit and deploys the solution in the food industry.

Over 20 SafeKit clusters are deployed on Linux and Windows with Oracle.

Testimonial of Fives Syleps:

"The automated factories that we equip rely on our ERP. It is not possible that our ERP is out of service due to a computer failure. Otherwise, the whole activity of the factory stops.

We chose the Evidian SafeKit high availability product because it is an easy to use solution. It is implemented on standard servers and does not require the use of shared disks on a SAN and load balancing network boxes.

It allows servers to be put in remote computer rooms. In addition, the solution is homogeneous for Linux and Windows platforms. And it provides 3 functionalities: load balancing between servers, automatic failover and real-time data replication."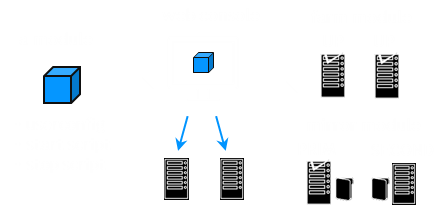 Advanced clustering architectures
Several modules can be deployed on the same cluster. Thus, advanced clustering architectures can be implemented: