VM HA vs Application HA
Evidian SafeKit
Redundancy at the application level
In this type of solution, only application data are replicated. And only the application is restared in case of failure.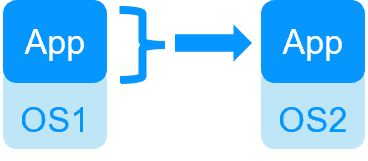 With this solution, restart scripts must be written to restart the application.
We deliver application modules to implement redundancy at the application level. They are preconfigured for well known applications and databases. You can customize them with your own services, data to replicate, application checkers. And you can combine application modules to build advanced multi-level architectures.
This solution is platform agnostic and works with applications inside physical machines, virtual machines, in the Cloud. Any hypervisor is supported (VMware, Hyper-V...).
Redundancy at the virtual machine level
In this type of solution, the full Virtual Machine (VM) is replicated (Application + OS). And the full VM is restarted in case of failure.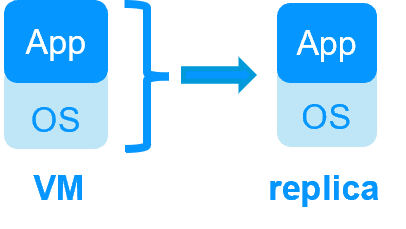 The advantage is that there is no restart scripts to write per application and no virtual IP address to define. If you do not know how the application works, this is the best solution.
This solution works with Windows/Hyper-V and Linux/KVM but not with VMware. This is an active/active solution with several virtual machines replicated and restarted between two nodes.
VM HA vs Application HA
VM HA with the SafeKit Hyper-V or KVM module
Application HA with SafeKit application modules
SafeKit inside 2 hypervisors

SafeKit replication and failover of full VM

SafeKit inside 2 virtual or physical machines

SafeKit replication and failover at application level

Replicates more data (App+OS)
Replicates only application data
Reboot of VM on hypervisor 2 if hypervisor 1 crashes
Recovery time = time to reboot the VM
Failover if a critical service inside the VM crashes
Quick recovery time with restart of App on OS2 if crash of server 1
Around 1 mn or less (see RTO/RPO here)
Advanced application checker and software failover
Generic solution for any application / OS
Restart scripts to be written with an application module
The solution works with Hyper-V and KVM but not with VMware (except by nesting Hyper-V or KVM inside VMware)
The solution works in any infrastructure (physical servers, VMware Hyper-V KVM virtual machines, cloud...)
SafeKit vs Microsoft Hyper-V Cluster & VMware HA
SafeKit with the Hyper-V module or the KVM module
Microsoft Hyper-V Cluster & VMware HA

Shared disk and specific extenal bay of disk

Remote sites = no SAN for replication

Remote sites = replicated bays of disk across a SAN or vSAN

No specific IT skill to configure the system
Failover on software failure inside the VM

Specific IT skills to configure the system
Note that SafeKit solutions are the simplest to implement but are limited to replication of a few Tera-bytes and failover of 25 VMs.
Why a replication of a few Tera-bytes?
Resynchronization time after a failure (step 3)
1 Gb/s network ≈ 3 Hours for 1 Tera-bytes.
10 Gb/s network ≈ 1 Hour for 1 Tera-bytes or less depending on disk write performances.
Alternative
Why a replication < 1,000,000 files?
Resynchronization time performance after a failure (step 3).
Time to check each file between both nodes.
Alternative
Put the many files to replicate in a virtual hard disk / virtual machine.
Only the files representing the virtual hard disk / virtual machine will be replicated and resynchronized in this case.
Why a failover < 25 replicated VMs?
Each VM runs in an independent mirror module.
Maximum of 25 mirror modules running on the same cluster.
Alternative
Use an external shared storage and another VM clustering solution.
More expensive, more complex.
Why a LAN/VLAN network between remote sites?
Alternative
Use a load balancer for the virtual IP address if the 2 nodes are in 2 subnets (supported by SafeKit, especially in the cloud).
Use backup solutions with asynchronous replication for high latency network.
Partners, the success with SafeKit
This platform agnostic solution is ideal for a partner reselling a critical application and who wants to provide a redundancy and high availability option easy to deploy to many customers.
With many references in many countries won by partners, SafeKit has proven to be the easiest solution to implement for redundancy and high availability of building management, video management, access control, SCADA software...
Building Management Software (BMS)
Video Management Software (VMS)
Electronic Access Control Software (EACS)
SCADA Software (Industry)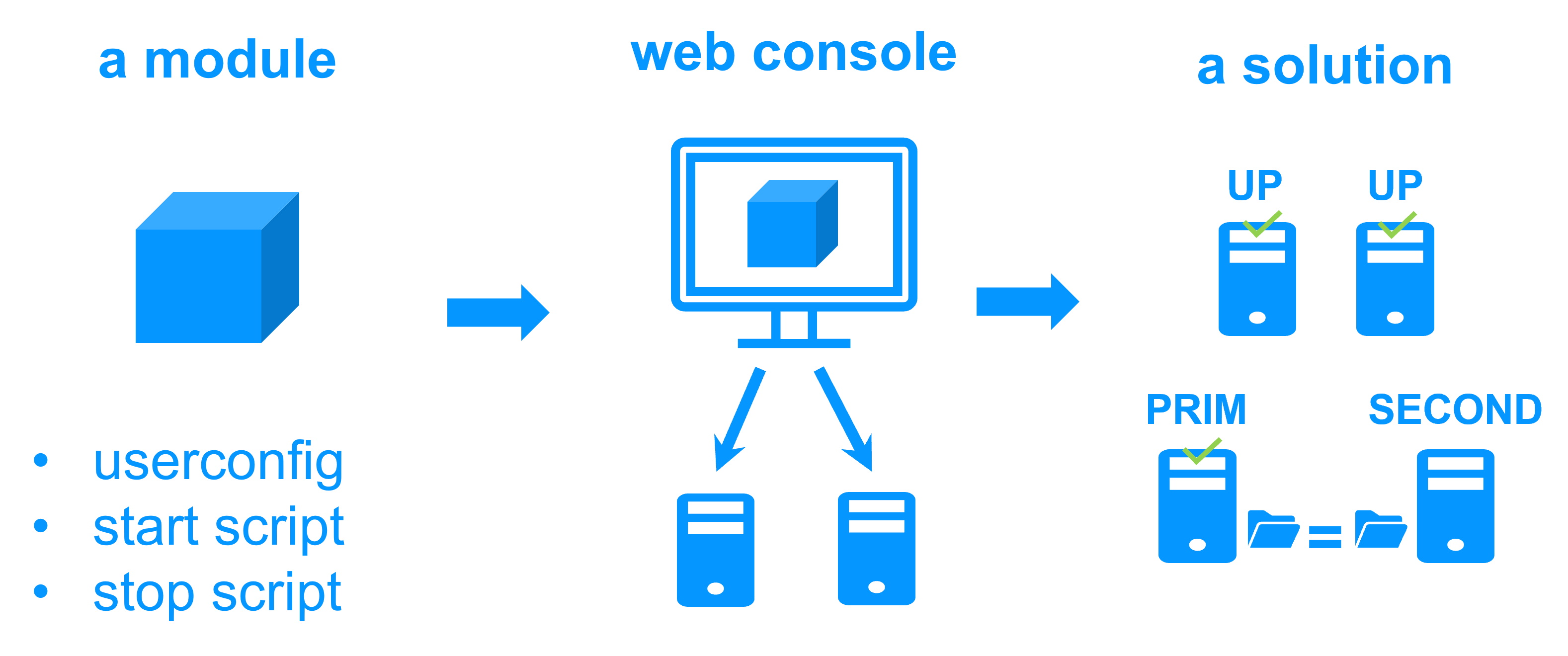 Advanced clustering architectures
Several modules can be deployed on the same cluster. Thus, advanced clustering architectures can be implemented: