High availability at the application level
In this type of solution, only application data are replicated. And only the application is restared in case of failure. Restart scripts must be written to restart the application. This solution is platform agnostic and works with physical machines, virtual machines, in the Cloud.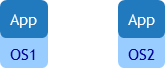 We deliver application modules to implement this type of solution. They are preconfigured for well known applications and databases. You can customize them with your own services, data to replicate, application checkers. And you can combine application modules to build advanced multi-level architectures.