Automatic installation in Microsoft Azure of a high availability cluster with synchronous replication and failover (Windows or Linux)
Automatic deployment of a Microsoft Azure template
To deploy the Evidian SafeKit high availability cluster with replication and failover in Microsoft Azure, just click on the following button which deploys everything:

- Mirror Cluster
Configure the Microsoft Azure template
After the click:
in "Resource group", click on "Create new" and set a name
choose the geographical "Location" where the cluster will be deployed
choose the "OS" Windows or Linux
choose an "Admin User" name (not Administrator, not root)
choose an "Admin Password". Passwords must be between 12 and 72 characters and have 3 of the following: 1 lower case, 1 upper case, 1 number, and 1 special character.
click on "I agree..." and then on "Purchase" (no fee on SafeKit free trial, only on Microsoft Azure infrastructure)
wait the end of deployment of the real-time replication and failover cluster
After deployment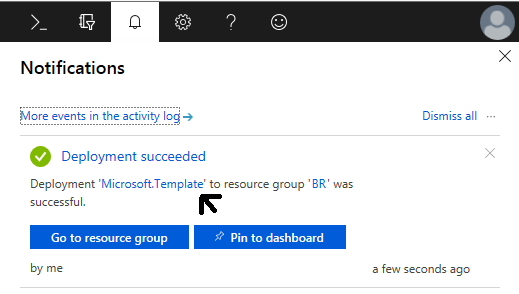 After deployment, click on 'Microsoft.Template' (previous image), then go to the output panel and
visit the credential URL to install the client and CA certificates in your web browser. Force the load of the unsafe page. Put as user 'CA_admin' and the password you enter during the template configuration. Be careful, put the second certificate in the 'Trusted Root Certification Authority' store
after certificates installation, start the web console of the cluster
test the primary/secondary virtual IP address with the test URL in the output. A primary/secondary load balancing rule has been set for external port 9453, internal port 9453. The URL returns the name of the PRIM or ALONE server
Video of the Microsoft Azure mirror template deployment
Accessing the VMs through SSH (Linux) or remote desktop (Windows)
If you want to connect to Virtual Machines through SSH (Linux) or remote desktop (Windows), you can use the SafeKit web console to know IP addresses or DNS names of VMs (next images). Use the user/password entered during the template configuration for accessing the VMs.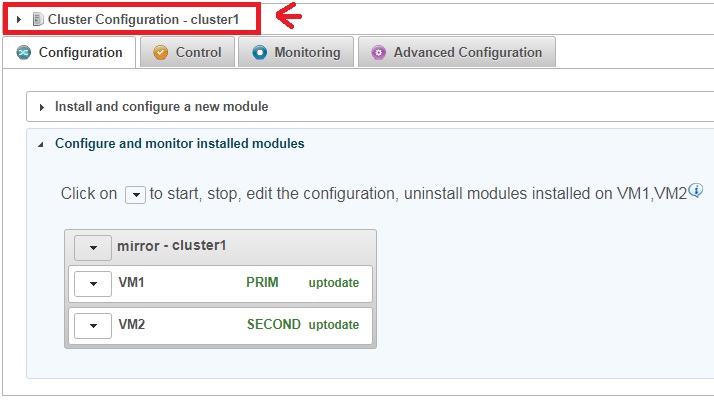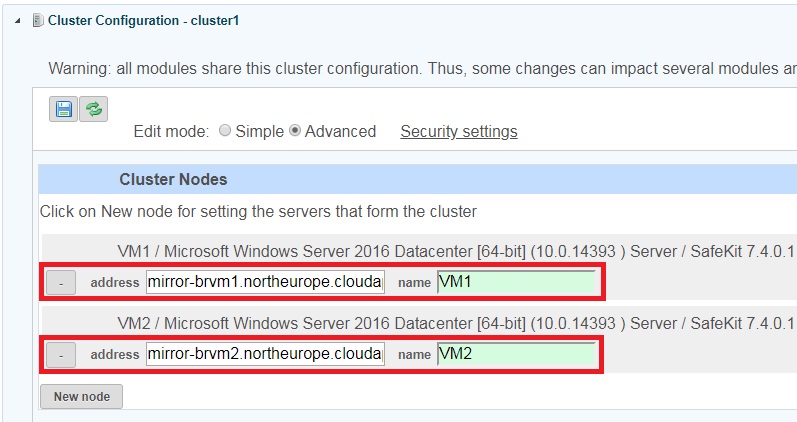 Deployed resources
In term of VMs, this template deploys:
2 VMs (Windows or Linux)
each VM has a public IP address
the SafeKit free trial is installed in both VMs
a SafeKit mirror module is configured in both VMs
In term of load balancer, this template deploys:
a public load balancer
a public IP is associated with the public load balancer and plays the role of the virtual IP
both VMs are in the backend pool of the load balancer
a health probe checks the mirror module state on both VMs
a load balancing rule for external port 9453 / internal port 9453 is set to test the primary/secondary virtual IP