10 mn webinar: how to easily implement a Business Continuity Plan and a Disaster Recovery Plan (BCP DRP)?
Evidian SafeKit
A Business Continuity Plan needs to use network load balancing boxes for scalability of Web services, shared disks to recover data, and failover toolkits delivered in Enterprise editions of Operating Systems and databases.
The Disaster Recovery Plan makes the solution more complex and increases the cost by requiring disk bays replicated across a SAN between two geographically remote sites.
SafeKit offers all these features in a single software and implements network load balancing, real-time replication and automatic failover.
Cut integration and validation costs in your BCP DRP projects
As the SafeKit solution is purely software, you can implement a Business Continuity Plan and a Disaster Recovery Plan for a critical application with simply 2 machines (physical or virtual) put in two remote sites. No need to invest in expensive storage complex to install and to configure in 2 sites. It is a way to drastically reduce integration and validation costs of your BCP DRP project.
With SafeKit, there is no change in configuration between 2 machines running on the same site or 2 machines running in two remote sites. The two sites must remain in the same extended LAN or VLAN for the transparent failover of the virtual IP address and for network performances of the synchronous real-time replication.
To avoid 2 masters when machines are network isolated (quorum problem), SafeKit proposes a simple split brain checker configured on a router while other clustering solutions require a complex configuration with a third machine, a special quorum disk or a special interconnect.
More information on business continuity and disaster recovery software between 2 remote sites.
Content of the webinar "A simple software high availability solution for a BCP and DRP"
Both SafeKit basic architectures are presented: first, the farm architecture with load balancing and failover, then the mirror architecture with real-time replication and failover.

The cost cutting of a SafeKit solution compared to hardware solutions in a BCP DRP is described. You will see that a SafeKit solution is ideal for small load balancing Web farms (typically 4 servers) and replication of medium-sized data (typically a few Terabytes).

The top 3 SafeKit use cases are described and in particular the unusual use case related to the purely software product property: a software publisher adds a high availability software option to its catalog with SafeKit and then deploys N times its solution to its own customers without difficulty.
The integration of a critical application is presented with the 3 phases of design, integration / validation and deployment.
Through this webinar, you can evaluate the simplicity of setting up a Business Continuity Plan and a Disaster Recovery Plan (BCP DRP) with SafeKit.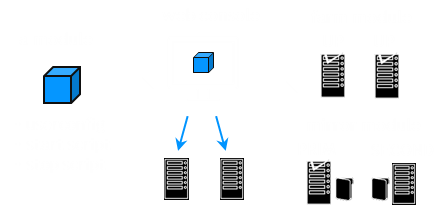 Note:
Several modules can be deployed on the same cluster. Thus, advanced clustering architectures can be implemented: