Healthcare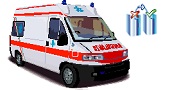 The software integrator Systel deploys SafeKit high-availability solution in firefighter and emergency medical call centers.
Over 30 SafeKit clusters are deployed on Windows with SQL Server.
Marc Pellas, CEO says:
"SafeKit perfectly meets the needs of a software vendor. Its main advantage is that it brings in high availability through a software option that is added to our own multi-platform software suite. This way, we are not dependent on a specific and costly hardware clustering solution that is not only difficult to install and maintain, but also differs according to client environments. With SafeKit, our firefighter call centers are run with an integrated software clustering solution, which is the same for all our customers, is user friendly and for which we master the installation up to after-sales support."