Government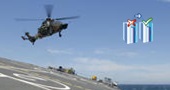 ERP high availability and load balancing of the French army (DGA) are made with SafeKit.
14 SafeKit clusters are deployed on Windows and Linux.
Alexandre Barth, Systems administrator says:
"Our production team implemented the SafeKit solution without any difficulty on 14 Windows and Linux clusters. Our critical activity is thus secure, with high-availability and load balancing functions. The advantages of this product are easy deployment and administration of clusters, on the one hand, and uniformity of the solution in the face of heterogeneous operating systems, on the other hand."