Air traffic control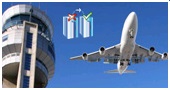 Air traffic control systems supplier, Copperchase, deploys SafeKit high availability in airports.
Over 20 SafeKit clusters are deployed on Windows.
Tony Myers, Director of Business Development says:
"By developing applications for air traffic control, Copperchase is in one of the most critical business activities. We absolutely need our applications to be available all the time. We have found with SafeKit a simple and complete clustering solution for our needs. This software combines in a single product load balancing, real time data replication with no data loss and automatic failover. This is why, Copperchase deploys SafeKit for air traffic control in airports in the UK and the 30 countries where we are present."