How to install an Enterprise Access Management controller on a Windows server
Installation guide
The Enterprise Access Management solution is installed using 2 main components:
The EAM Controller
The EAM Client
The EAM Controller allows centralization of User Access access policy definition and audit events.
It connects to the company directory to retrieve necessary data.
For availability reasons, several EAM Controllers can be installed. An EAM Controller can be dedicated to administration operations and an other
can be dedicated to audit operations.
2 methods of installation are possible:
In dedicated (AD-LDS) Directory mode
In Corporate (AD) Directory mode
Before starting:
Make sure you have valid User Access license keys, given by your Evidian representative.
Download the Authentication Manager or Enterprise SSO installation package from the Evidian support web site (http://support.evidian.com) and unzip it.
Make sure the server is connected to the corporate directory by performing a ping test.
Make sure you have a valid account in the server domain. The account password must never expire.
Make sure the server is not a Domain Controller.
Install a supported database server (you are advised to install MySQL server).
Please refer to the product documentation for details on the installation procedure.
If you plan to install MySQL server, read the following:
You must use the following database instance name: MySQLESSO.
Make sure the ODBC connector is installed upon the MySQL server installation.
You are strongly advised to use ODBC connector version 5.1 (you may experience problems with version 5.2). You can download connectors at the following URL: http://dev.mysql.com/downloads/connector/odbc/5.1.html#downloads
Procedure
1. Log on to the server as local system administrator.
2. To run the installation wizard, open the root folder of the installation package
and double-click start.hta
► The User Access installation wizard welcome window appears.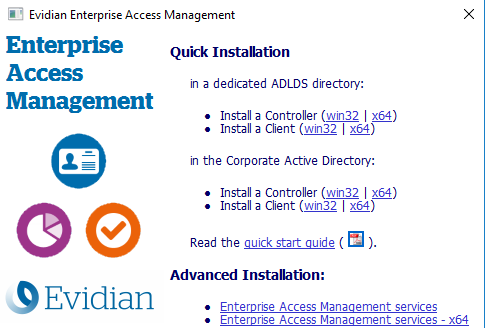 In the Quick Installation/in a dedicated ADLDS directory area or Corporate Active Directory, click one of the following, depending on your Windows system processor:
- For 32 bits processors: win32.
- For 64 bits processors: x64.
► The User Access Client installation wizard welcome window appears.
Follow the instructions displayed in the video above.
When installing in Corporate directory mode, when asked where the EAM security objects are stored, choose "In the corporate directory".