Click on the right "Download" button to access to the free download page for your Windows or Linux cluster test!
Examples of cluster configuration on Windows and Linux with HA modules
To help you in your test, here are some examples of high availability modules:
Videos
The 3 following articles describe how to implement SafeKit in 2 VMware VMs:
Documentation
You can access the SafeKit User's Guide here. An you can also access the full SafeKit training here. SafeKit offers a free download to perform a Windows cluster test or a Linux cluster test. The test can be made with standard physical ou virual servers (VMware, Hyper-V). The supported OS are described in the Software Release Bulletin.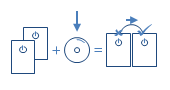 The setup procedure is described with a set of mini-slides: click on the right link "Quick Start" to access to the setup procedure. Each mini-slide points into the SafeKit training. And the SafeKit training references the User's Guide to help you in your test. To accelerate your project, the User's Guide includes: