Cluster management
Simple cluster management to avoid human error
Human error is an important reason of critical system downtime. That's why simplicity of cluster management is a keyword when dealing with a critical application.
SafeKit provides to the administrator a simple user interface to control critical applications under his or her charge. The cluster management console presents red, green, magenta colors for displaying the critical application status. And the administrator has simple start, stop, swap buttons to restart manually the application.
The figure below shows the cluster management console with a restart of server 2 while the critical application is running on server 1 for a mirror module. If you want to know more, we recommend to have a look on tutorials that explain the high availability cluster management with SafeKit.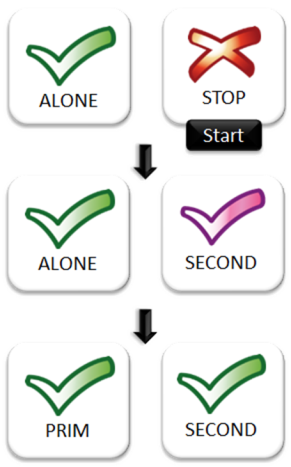 The web console is complemented by a user documentation that integrates the troubleshooting procedures. Using the SafeKit generic command line interface, all applications integrated inside SafeKit modules can be controlled in a generic way into Patrol, Microsoft SCOM, Nagios consoles...
Note that a SafeKit module can be installed on a single server. In this case, the module is displayed in the cluster management console and the administrator can control the critical application with the simple SafeKit user interface. And the module restarts automatically the critical application on software failure.
More information: