Evidian QRentry – A self-service password reset tool with a smartphone and a QR code
Customer challenge
Sam is visiting customers with a secure PC
Invalid password… Smart card blocked… How does Sam login to the PC?
A self-service password reset tool imlemented by Evidian QRentry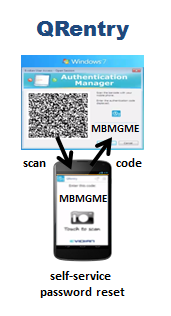 Turn your smartphones into a means of strong authentication
Evidian QRentry is a self-service password reset tool which can be downloaded on a smartphone from Google Play and the Apple Store. When users lose a password or a smartcard, they can unlock themselves their PC via QR Codes (secure One-Time Passwords (OTP)).
Use a secure emergency access wherever you are
Combined with Evidian Authentication Manager, QRentry is the ideal partner of strong authentication deployments, which often generate "lost smartcard" or "biometrics doesn't work" helpdesk calls. With this self-service password reset tool, users can unlock themselves, even if helpdesk is out of reach.
Optimize your help desk activity
Because the password reset tool is in self-service, the amount of help desk calls decreases dramatically.
More on Evidian Self-Service Password Reset (SSPR) from a web portal, a workstation and even a mobile.
Evidian QRentry video
This QRentry video presents the self-service password reset tool and the emergency Windows login via QR code and smartphone.
More information on our security products