NTT Comware and Atos partner to expand security business in Japan
Partnership aims to offer new hybrid identity lifecycle management automation solution

Tokyo, November 21, 2019 - NTT Comware Corporation and Atos SE have entered a partnership to expand their security business and drive digital transformation across Japan with a focus on the Identity & Access Management.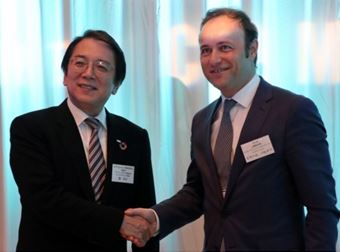 NTT Comware will leverage several of Atos' security modules and related services, including Identity Management and Authentication products, to launch new security solutions that would help resolve challenges in enterprise environments that provide both on-premises and cloud services, i.e. hybrid environments. In addition, this collaboration is expected to assist in managing identities in a hybrid environment to mitigate security risks. Two such solutions earmarked are:
SmartCloud® IAM Solution – compatible with hybrid environments. This includes Evidian Identity Governance and Administration which optimizes users' access to relevant resources while limiting risks.
Context-Based Authentication Enhancement Solution – this combines NTT Comware's Security Operations Center (SOC) services with Atos' products, such as Evidian Web Access Manager. A combined protocol will automatically intercept unauthorized communications and identities detected via NTT Comware's SOC services, which allows security measures to be implemented quickly and efficiently.
"NTT Comware will further deepen its relationship with Atos and together we will accelerate the development of our security businesses by making full use of each other's strengths. While companies undergo digital transformation because their traditional working styles are gradually shifting, their enterprise IT resources are increasingly getting "hybridized" with on-premises and cloud services, which requires security measures that differ from what we have had up to now. We want to boost our customers' competitiveness and contribute to their business innovation by providing our SmartCloud® IAM Solution, while leveraging Atos' portfolio of solutions and IT services." said Satoshi Kurishima, President of NTT Comware.
"We are extremely pleased to have this opportunity with NTT Comware to further deepen our decade-long collaboration in Japan. With this partnership, we aim to further strengthen the development of the Evidian Identity and Access Management suite (which includes Evidian Identity Governance and Administration) to reach more Japanese enterprises and customers." said Pierre Barnabé, Senior Executive Vice President, Head of Big Data & Security at Atos.
_____________________________________
NTT Comware plans on providing Hybrid IDaaS (ID as a Service), powered by Atos' IAM products, by the first quarter of 2021. Product web page (Japanese language only): https://sc.nttcom.co.jp/smartcloud-si/security/id
*SmartCloud, the SmartCloud logo are registered trademarks of NTT Comware in Japan.
*Evidian is a registered trademark of the Atos group.
*Any other company names, product names, and service names are trademarks or registered trademarks of either company.
***
About Atos
Atos is a global leader in digital transformation with over 110,000 employees in 73 countries and annual revenue of over € 11 billion. European number one in Cloud, Cybersecurity and High-Performance Computing, the Group provides end-to-end Orchestrated Hybrid Cloud, Big Data, Business Applications and Digital Workplace solutions. The group is the Worldwide Information Technology Partner for the Olympic & Paralympic Games and operates under the brands Atos, Atos Syntel, and Unify. Atos is a SE (Societas Europaea), listed on the CAC40 Paris stock index.
The purpose of Atos is to help design the future of the information technology space. Its expertise and services support the development of knowledge, education as well as multicultural and pluralistic approaches to research that contribute to scientific and technological excellence. Across the world, the group enables its customers, employees and collaborators, and members of societies at large to live, work and develop sustainably and confidently in the information technology space.
About NTT Comware
NTT Comware is a Business Integrator that has experience in system development and IT infrastructure provisioning for enterprises, mainly for the NTT Group. NTT COMWARE's wealth of business process knowledge and Information/network technology meets the complex and ever-changing needs of its customers.