Click on the right "Download" button to access to the free download page for your Windows, Linux or AIX cluster test!
To help you in your test, the 3 following articles describe how to implement SafeKit in 2 VMware VMs:
You can access the SafeKit User's Guide here. An you can also access the full SafeKit training here. SafeKit offers a free download to perform a Windows cluster test or a Linux cluster test or an AIX cluster test. The test can be made with standard physical ou virual servers (VMware, Hyper-V, AIX LPAR). The supported OS are described in the Software Release Bulletin.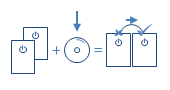 The package includes all the SafeKit features and you will be able to deploy either a mirror cluster with real-time replication and failover, or a farm cluster with network load balancing and failover. The setup procedure is described with a set of mini-slides: click on the right link to access to the setup procedure. Each mini-slide points into the SafeKit training. And the SafeKit training references the User's Guide to help you in your test. To accelerate your project, the User's Guide includes: