Evidian A&I's views and dashboards are the best tool for cybersecurity executives to solve the lack of visibility into threats and prevent careless or malicious employees to access critical ressources.
At a time of Cloud environments and hyper-mobility, increased risk translates into new security and compliance requirements:
Audit reports and statistics for regulators
Security and usage trends to protect your system
Root-cause analysis of suspicious practices to prevent threats
Increased efficiency via Key Risk Indicators (KRI)-driven decisions
Cost optimization with monitoring of Cloud Applications usage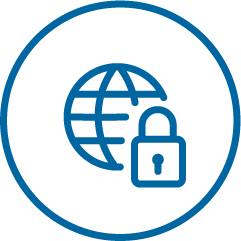 Dashboards allow users to focus on a given KRI (Key Risk Indicator) and allows a detailed analysis by playing on these different dimensions.

Evidian Analytics and Intelligence dashboards have time graphs that show the trends of KRIs over time. Through the A&I Portal, auditors and analysts can build, review and export their dashboards.
The solution already includes a set of pre-defined dashboards:
User authentications: user authentications with a view by organization, time and authentication method
User authentications risks: risk related to user authentication based on a risk aggregation formula
Users: comprehensive view of users by organization
Applications accesses: detailed view of successful and failed access to applications and resources
Users with SoD violations: user accounts with Segregation of Duties violations
Users without entitlements: dashboard to track users without any permission or role.
Right assignment/revocation requests: number of entitlements requests handled per month
User lifecycle: users entering, leaving or evolving within the company per month
Password changes: passwords changes, made by an administrator or by the user himself (self-service)
Provisioning failures: errors that occurred during the provisioning of target systems
User-to-service registration/un-registration: registration and un-registration of users for all your applications
...
A simple configuration allows users to generate dashboards automatically and periodically, which will be automatically emailed or copied into shared files. All dashboards can be customized to the specific needs of each organization by selecting and adding elements: logo, images, website, reports or add-hoc views.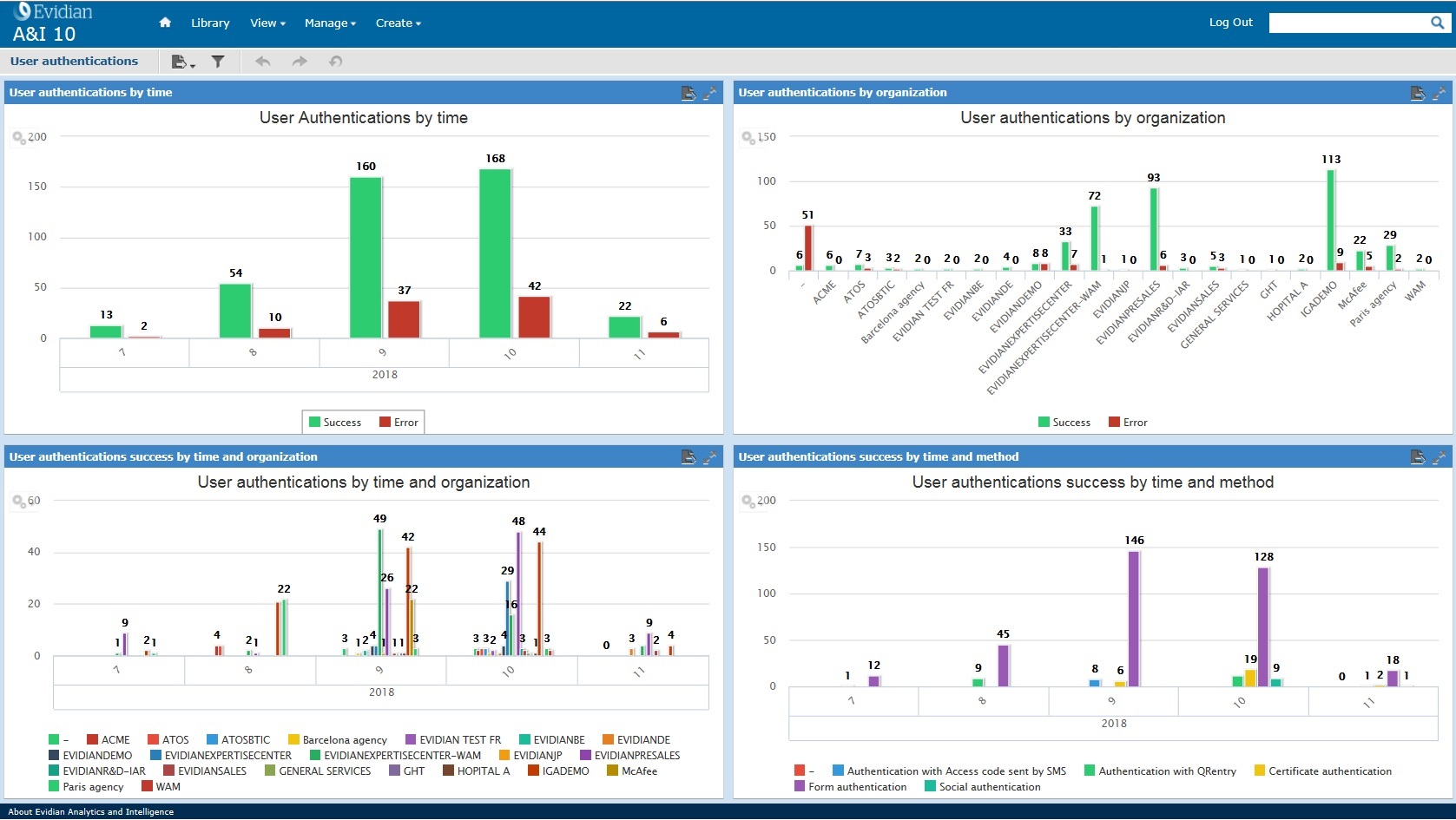 As core components of the dashboards, custom views are flexible on-demand displays (charts) that are A&I's core analysis tool. They focus on the selected domain to provide information of the Key Performance Indicators (KRIs) of your organisation's IAM system and statistical information on the relevant fields.

Evidian A&I includes a set of pre-defined reports on right assignments as well as on user arrivals and departures used in specific dashboards, events reports, drilldown reports or additional details reports. Users can create new reports using pre-defined views, domains and other data sources. The solution also enables Administrator to create new custom reports, with new domains and settings.