Gemalto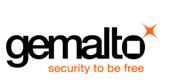 Gemalto provides end-to-end digital security solutions that are designed to make personal digital interactions more convenient, secure and enjoyable.They range from the development of software applications through the design and production of secure personal devices such as smart cards, SIMs, e-passports and tokens to the deployment of managed services for Gemalto customers.
More than one billion people worldwide use Gemalto products and services for telecommunications, financial services, e-Government, identity management, multimedia content, digital rights management, IT security, mass transit and many other applications.
Evidian solutions are hardened by using Gemalto hardware tokens to protect user credentials. Evidian sells Gemalto strong authentication tokens bundled with its own security solutions via its integrator network.
Web site : www.gemalto.com