Harmonie Technologie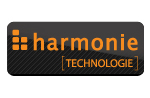 Integrator and Consulting specialized in Information System Security (logical security), Harmonie Technologie provides 360° services to answer efficiently to the various expectations of its interlocutors, CISO, CIO, CTO, Business Lines.
Harmonie Technologie is a company with recognized expertise in various sectors such as bank, finance, insurance, pharmaceutical industry, media, government services.
Starting in 2005 as a system integrator of IAM solutions (Identity and Access Management), Harmonie Technologie has been developing technological partnerships with the leading editors of security solutions on the market.
Evidian Partner, Harmonie Technologie is an expert integrator Evidian solutions such as Identity & Access Manager, Enterprise SSO, Authentication Manager and Web Access Manager.
Web site : www.harmonie-technologie.com/