TV broadcasting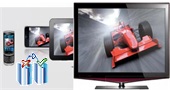 Thomson Video Networks is using SafeKit as a software OEM high availability solution and deploys it with its TV broadcasting solutions over satellites, terrestrials, cable, IPTV.
Over 80 SafeKit clusters are deployed on Windows for replication of Thomson Video Network database and automatic failover of the critical application.
Philippe Vidal, Product Manager, Thomson Video Networks says:
"SafeKit is the ideal application clustering solution for a software publisher looking for a simple and economical high availability software.
We are deploying SafeKit worldwide and we currently have more than 80 SafeKit clusters on Windows with our critical TV broadcasting application through terrestrial, satellite, cable and IP-TV. SafeKit implements the continuous and real-time replication of our database as well as the automatic failover of our application for software and hardware failures.
Without modifying our application, it was possible for us to customize the installation of SafeKit. Since then, the time of preparation and implementation has been significantly reduced."